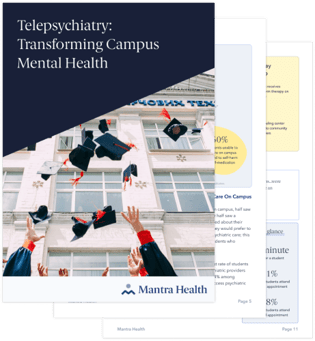 Telepsychiatry: Transforming Campus Mental Health
Download Mantra Health's free eBook to learn more how telepsychiatry can support hybrid models of care and close the mental health care gap on campus.
Table of Contents:
Telepsychiatry: An Effective, Scalable Solution for Campus Mental Health Care by Dr. Nora Feldpausch


Student Perspectives: Psychiatric Care on Campus


The Cost of Crisis: Making the Budget Case for Telepsychiatry on Campus


Telepsychiatry with Mantra Health
About the Authors

Nora Feldpausch, MD - Medical Director
Dr. Nora Feldpausch serves as Mantra Health's Medical Director, where she leads the telehealth program's provider group and clinical protocol development efforts. Bringing over a decade of experience to the role as a university psychiatrist, Dr. Feldpausch has a rich clinical background in establishing treatment teams for high-risk students and most recently, developed clinical guidelines for Michigan State's first telepsychiatry program. Through her position at Mantra, Dr. Feldpausch is thrilled to play a key role making collaborative telemental health a reality on campuses nationwide.