Ebook: Telepsychiatry: Transforming Campus Mental Health
Why invest in psychiatric care and what outcomes to expect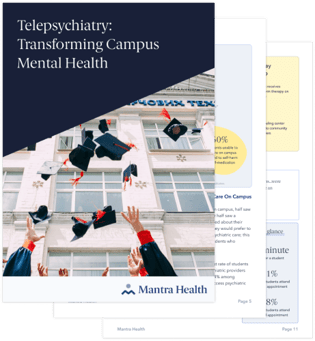 Telepsychiatry: Transforming Campus Mental Health
College students all across the nation are experiencing high levels of major depression, suicidal ideation, and self-harm – and more than 75% of all lifetime mental health disorders develop by age 24. In order to build the most comprehensive mental health services and meet the needs of a diverse student population, colleges and universities must prioritize psychiatric care.
In this definitive guide to telepsychiatry, you'll learn:
Why psychiatry is integral to improving student mental health
How to advocate for psychiatric care on campus
The cost-savings associated with telepsychiatry
The top five factors to consider when evaluating telepsychiatry providers
Why Mantra Health has a 4.9/5 rating from students
"I like how I can get a prescription after my appointment... the providers tend to be thorough with their work and how they care for you." – Anonymous student in Mantra Health's telepsychiatry program
Download the free ebook today!
About the Authors

Nora Feldpausch, MD - Medical Director
Medical Director at Mantra Health, former psychiatrist at Colorado State University, and Telehealth Provider and Designated Psychiatric Provider at Michigan State University

Leah Goodman, OTD, OTR/L, CYT - Program Success Manager at Mantra
former Program Success Manager at Mantra Health, now Educator and Therapist at The Expansive Group

Jess Faust - former Strategy and Operations Manager at Mantra
former Strategy and Operations Manager at Mantra Health, now Forensic Social Work Intern at New York County Defender Services