White paper: The State of Provider Burnout in College Counseling Centers
How to recognize signs of burnout, create a culture of connection, and retain clinical providers
Download the white paper: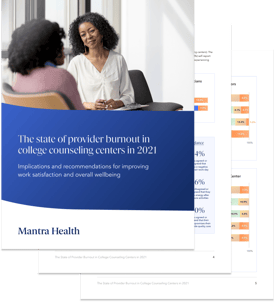 After surveying college counseling center staff, we found that 92.7% reported experiences of burnout – and 60% agreed that their workload compromises their ability to provide quality care. What steps should colleges and universities take to support their counseling center staff throughout the academic year?
In this free resource, we explore the hardships facing counseling center staff, the signs and symptoms associated with burnout, and ways to support staff well-being, as well:
How counselors and counseling center directors are feeling post-COVID
Where to allocate time and resources to better support staff well-being
How to build a culture of communication, openness, and boundary-setting
How to align your values with the care you provide to students
Demand for counseling services rises and falls throughout the year, taking an emotional toll on existing staff. Learn how to recognize the mental health needs of counseling center staff and where to invest time and resources.
Contributors:
David Walden, PhD, Counseling Center Director at Hamilton College
Harry Rockland-Miller, PhD, Director Emeritus at Center for Counseling and Psychological Health at the University of Massachusetts Amherst
Kelly Carleton, MA,

Vice President of Program Success at Mantra Health