State of Play: Mantra & NAIA Survey 2022
Download your copy, today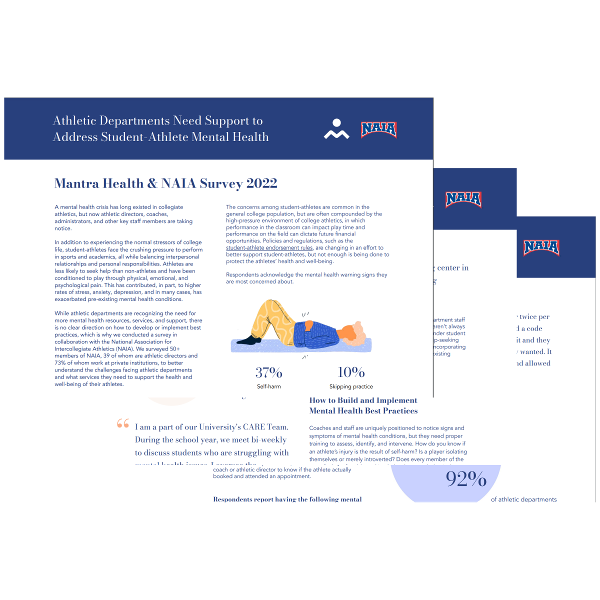 We surveyed 50+ National Association for Intercollegiate Athletics members to better understand the student-athlete mental health crisis, what challenges are faced by collegiate athletic departments, and how to improve access to mental health care. We found that 90% of athletic leaders want more mental health training for coaches and athletic directors and 86% want mental health training for student-athletes.
We know student-athletes face tremendous pressure to succeed and meet expectations set by the school, the athletic department, and themselves – and it's up to all of us to ensure that their health and well-being is protected. We must secure the proper tools and resources to help student-athletes succeed in the classroom, in their sport, and most importantly, in life.
In this resource, you'll learn:
Top three factors impacting student-athlete mental health
Most and least common mental health resources for student-athletes
Greatest mental health concerns facing athletic departments
How other athletic leaders are addressing mental wellness
Top four mental health best practices to prioritize
At Mantra Health, we're dedicated to improving access to mental health care for young adults and we're working closely with collegiate athletic leaders to build tailored services to student-athletes. To learn more about our services, contact partner@mantrahealth.com.


You're also invited to the next webinar in our student-athlete mental health webinar series, scheduled for July 11, 2022, at 1:00 pm ET. Learn more and

RSVP here

.